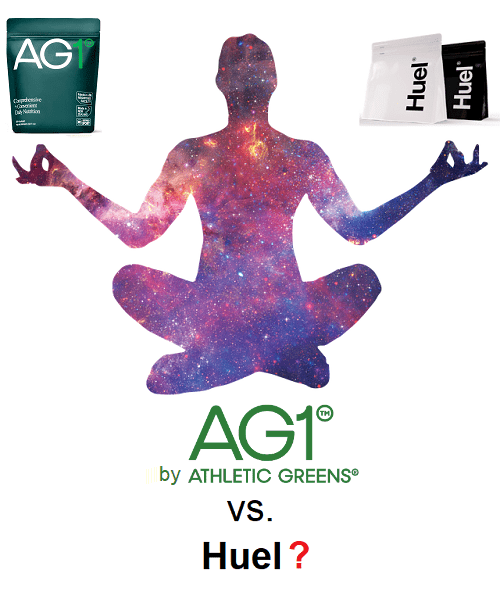 Recently, we have often been asked by readers what we find better. Athletic Greens or Huel. Again and again we should list the advantages and disadvantages. Athletic Greens vs Huel?
Caution spoiler: The result we came to at the end of this page finally surprised ourselves!
New Athletic Greens branding in AG1
Breaking news:
Athletic Greens® has rebranded its core product from Athletic Greens to AG1®. The 1 stands for "
the one and only Supplement
" which is needed for daily health nutrition!
In any case, the content, quality, and price remain unchanged.
As a result of the rebranding, the globally distributed packaging is now completely environmentally friendly. The new AG1 name also emphasizes that the Greens supplement isn't just for "athletic people," but can be consumed
by anyone looking for healthy and complete nutrition
. Here is a picture showing Athletic Greens before and after it was changed to AG1:
*advertising
AG1 Promo Offer
There is a limited-time offer for AG1 for this month. If you order your first order during
February 2023
you'll get a pouch of AG1 with 30 servings along
with a ton of free extras
. As a result, one does not only get the
Greens supplement AG1® with 75 ingredients
for one month, but in addition also the following products of the company Athletic Greens®
as a gift
:
One bottle of the sunshine vitamin D3-K2 (lasts for a year with daily use)
5 free Travelpacks (to enjoy a yummy AG1 Shake while traveling)
A premium jar using the new AG1 design
A dosing spoon to match the new AG1 jar is also provided
An AG1 shaker. The bottle also features the new AG1 logo. A fancy way to shake your daily AG1
*advertising
Here's why it was time to rebrand the popular Athletic Greens supplement:
AG1 Athletic Greens
At first, it seemed strange to compare the two supplements, because we actually compare apples with pears. The two powders not only have a different color, but also a (albeit minimal) different objective.
Athletic Greens is a strong supplement that provides you with over 75 valuable superfoods, vitamins and nutrients in a few seconds with a shake.
Huel is a meal replacement (like soylent which is also a meal replacement, but we prefer Huel) and can be considered a complete food in powder form. By the way: The name Huel is composed of HUman fuEL.
Athletic Greens advantages
Athletic Greens provides you within seconds with vitamins and nutrients that you would otherwise have to eat several portions of fruit and vegetables. The positive effect is already noticeable after a few days. Read more about the Athletic Greens benefits and health improvements and an honest Athletic Greens review and of course more about the current Athletic Greens promo code.
Athletic Greens contra/criticism
Athletic Greens contains 45 calories per shake. This is positive for people who want to get a healthy shake quickly in the morning without breaking their fasting phase or who want to drink the shake in addition to breakfast. You can even use Athletic in a ketogenic diet (keto diet). The shake does not significantly impact the calorie account.
However, this also means that the Greens Shake does not saturate.
Athletic Greens is therefore not a meal replacement.
He lacks the corresponding Omega 3 fatty oils.
It lacks the protein in the shake. This must be taken in addition with a diet with Athletic Greens in the form of a corresponding meal.
Some see this as a point of criticism, others see it as a positive effect, precisely because many people want to cover their daily vitamin and nutrient requirements with this shake. This is perfectly possible with Athletic Greens!
Athletic Greens offer from current event
Huel advantages
Huel is perfect for all those people who want to prepare a healthy and satisfying shake in a short time in the morning, which also contains all relevant vitamins, fiber, nutrients but also oils and protein. One shake has 400 calories and thus replaces a full meal. Look at huel.com
Huel contra
One might actually think that Huel makes a shake like Athletic Greens superfluous, as it contains 26 vitamins and minerals. At last it also satiates. Nevertheless, Huel contains only 26 vitamins in a lower dosage than Athletic Greens. In addition, people with food intolerances have to be more careful whether they get the contained foods like tapioca, rice, peas, flaxseed or coconut.
Huel vs. Athletic Greens Conclusion
As you can see, we tried to look at both shakes critically, which was not easy for us, because we love both. Accordingly, our conclusion is: For us, the optimal shake consists of a mixture of Huel and Athletic Greens.
The perfect mixture and the costs are halved!
Correctly heard, we find that by mixing both powders we get an optimal result of both shakes. We get the 75 superfoods from Athletic Greens, but also the healthy oils, protein and satiating fiber from the Huel shake!
In addition, you only have to take half of both shake powders. So you can easily get by with one pack of Athletic Greens and one pack of Huel for 2 months and cut the costs per shake in half!
Athletic Greens + Huel meal replacement shake
Ingredients:
1 Scoop Huel (normally you take 2 scoops per shake)
Half a Scoop Athletic Green (normally you use a whole scoop)
250ml water
If necessary: an ice cube and a pinch of cinnamon
Preparation:
You can imagine it, but the preparation is very simple:
Put the water in your shaker (until now we used the Huel shaker but this month Athletic Greens is giving away a really cool shaker with every order!
Fill the Huel powder and Athletic Greens powder into the shaker. Always use the enclosed scoop, because the Athletic Greens scoop is slightly smaller. In addition, you should not mix the powders in the package to keep them fresh for as long as possible 🙂
Add cinnamon and/or ice cubes if necessary.
Close the shaker and shake for approx. 10 seconds.
Enjoy!!
Today, events are coming thick and fast!!!
Athletic Greens gives our readers
via the following page
*advertising
for free with any order:
An AG1 shaker
one bottle of sun-vitamin D3 K2
5 AG1 travel packs
A storage tin
An aluminum dosing spoon for your daily AG1
The Vitamin D3-K2 oil is currently not available for purchase separately. According to Athletic Greens, one bottle is enough for a whole year and optimizes the effect of Athletic Greens Shake again enormously because many active ingredients can be absorbed especially in combination with an oil. And we don't need to talk about the general benefits of vitamin D3 and K2 here! Athletic Greens has dosed these active ingredients so that they fit optimally to the daily Greens Shake. Here's how to get to the short-term free promotion page:
*advertising
Quickly strike because it might be very limited in stock.
So if you still see the offer, better use directly.
*advertising