On many websites you can find an AG1 Athletic Greens test because the editor has tried the powder himself — only to write an article about it. Our goal is to determine the potential of AG1 by Athletic Greens. We have been supplementing AG1 by Athletic Greens regularly for over 10 years and have conducted some experiments (such as our Athletic Greens Ice, arguably the healthiest ice cream in the world) with it. We're also still trying the price to get the best Athletic Greens discount. Currently we have reduced the Athletic Greens costs by nearly 80%!
In this article, however, the effect of AG1 by Athletic Greens is thoroughly tested and analyzed. Let's figure out if and how AG1 works:

New Athletic Greens branding in AG1
Breaking news:
Athletic Greens® has rebranded its core product from Athletic Greens to AG1®. The 1 stands for "
the one and only Supplement
" which is needed for daily health nutrition!
In any case, the content, quality, and price remain unchanged.
As a result of the rebranding, the globally distributed packaging is now completely environmentally friendly. The new AG1 name also emphasizes that the Greens supplement isn't just for "athletic people," but can be consumed
by anyone looking for healthy and complete nutrition
. Here is a picture showing Athletic Greens before and after it was changed to AG1:
*advertising
AG1 Promo Offer
There is a limited-time offer for AG1 for this month. If you order your first order during
February 2023
you'll get a pouch of AG1 with 30 servings along
with a ton of free extras
. As a result, one does not only get the
Greens supplement AG1® with 75 ingredients
for one month, but in addition also the following products of the company Athletic Greens®
as a gift
:
One bottle of the sunshine vitamin D3-K2 (lasts for a year with daily use)
5 free Travelpacks (to enjoy a yummy AG1 Shake while traveling)
A premium jar using the new AG1 design
A dosing spoon to match the new AG1 jar is also provided
An AG1 shaker. The bottle also features the new AG1 logo. A fancy way to shake your daily AG1
*advertising
Here's why it was time to rebrand the popular Athletic Greens supplement:
AG1 Athletic Greens
So what are the real effects of AG1 Athletic Greens?
What effect does AG1 by Athletic Greens have on health and mood?
After what time does the positive aspect of AG1 come up and how is it felt?
What happens to the body and health if you regularly drink AG1 for a month?
What happens if you regularly supplement AG1 for 3 months?
The incredible results will be listed here! But now an amazing list of all AG1 ingredients by Athletic Greens and their effects and benefits that you probably haven't read yet:

Possible AG1 effects and benefits of the ingredients
If you are interested in the effect of each AG1 ingredient, you should have a look at our list on AG1 Athletic Greens Ingredients. There, we have analyzed the effect of each AG1 ingredient by Athletic Greens.
Possible AG1 Athletic Greens effect within the first month
The following effects have already been adjusted as an intersection with our 12-strong team after just one month and thus also coincide with the general AG1 Athletic Greens experience:
Smoother skin, fresher face colour (e.g. because toxins and free radicals are discharged and no longer add to the skin's skin)
Faster wound healing. Minor injuries, bruises, cracks in the skin or generally dry skin — all of this no longer occurs (or significantly reduced) after just one month with AG1.
No more feeling full after a meal. No more bloating.
Clearly better bowel movement. We do not want to go into too much detail on the subject, but this is something that everyone feels after just one month. You just realize that it's so right (a lightness that's good) and it wasn't properly supplied before. This is despite the fact that we have already eaten healthily before.
Clearly stronger hair and nails. No more splitting, no more ripped brittle nails. This is also felt by everyone!
Bad breath is less common. Obviously, AG1® also fights the bacteria in the mouth and ensures a better flora in the throat area.
No more white-covered tongue (and before you ask, no, no green-covered tongue 😉 )
Generally less unpleasant body odours.
Faster detoxification (we have also tested the anti-hangover effect of AG1® by Athletic Greens®. The body is much faster back on top!
Significantly more energy. And that seems to be increasing by the day! Thanks to the mushroom extracts, you are pleasantly awake and can work for several hours concentrated and full of energy!
Pharmacists about Athletic Greens
This is what a pharmacist says about Athletic Greens (now called AG1) on the American TV channel Fox61:

In summary:
The product is safe and the ingredients are all tested. It is just not possible to make a statement about how the 75 ingredients react with each other.
Athletic Green's (AG1) Experiences
The following are some testimonials from AG1 / Athletic-Green's users (since september Athletic Greens has renamed its supplement into AG1, so some of the quotes are older):
"A good friend of mine introduced me to Athletic Greens and after only a few days.. Wow.. what a difference!… I no longer experience large energy fluctuations and am able to give full throttle during training and work." -Andreas Olesen
"I have struggled with digestive problems since I was a teenager and have been given a vague diagnosis of IBS. The pain and inconvenience became a daily occurrence, but you are always looking for a new solution. Athletic Greens ripped me off my stool! Within 7 days I noticed that my daily pain and bloating was missing and since then it has remained so. I feel like a different person." -Melissa Kramer
"I feel the effect of the Athletic Greens within 5 to 10 minutes after drinking. The feeling of inertia, the low energy, the extreme exhaustion and the mental fog disappear immediately." -Jen Ferriss
AG1 supscription-order promotion (for a limited time!)

"I am a 59-year-old doctor and amateur athlete. I have been taking Athletic Greens as my only dietary supplement in addition to generally healthy and clean foods for more than a year now. It helped me to survive the intensive training for the Ironman Texas, which I participated in in May 2014 and later in the year the Spartan Trifecta.
My wife, Tammy, also uses it and swears that your nails have never been so stable, which is the case with me!
I am convinced that the phytonutrients, botanicals and other ingredients gave my body the support it needed during my workout. What I did with my hard work has greatly improved my life!" -Art Martin (doctor, amateur athlete and former cancer patient)
Athletic Greens AG1 Effect for Beginners
If you've never taken AG1 by Athletic Greens, you'll certainly notice the biggest changes in the long run. This Greens supplement offers you a significantly better nutrient density per serving especially three times better absorption of nutrients than other products on the market. So what you take can be absorbed and processed 3 times better by your body, while you excrete all the other supplements unused by the urine. This was the main reason why Chris "The Kiwi" Ashenden developed Athletic Greens in the first place, as there is nothing comparable on the market. In contrast to other green shakes, you will notice a few typical changes relatively quickly:
More energy
Detoxification (Expect a digestive fluctuation in your first week)
Improved hair and complexion
Greater resistance to colds, flu and other diseases
Reduction of cravings
Relieving some chronic digestive problems
Last but not least: Significantly better mood… The changes in the body also have a positive effect on your state of mind!
Just a few weeks after daily intake, the following can be expected:
Less bloating and fatigue after lunch
Fresher, healthier and more vibrant skin
Stronger hair and nails (this is really extreme considering how bad my nails used to be!)
Faster wound healing
Bad breath occurs less often – clear, please brush your teeth anyway 😉
Faster detoxification and therefore more energy (especially in combination with intermittent fasting 16:8 which we have been doing for many years
Athletic greens AG1 Breakfast

In combination with other foods, AG1 is the ideal breakfast for a healthy start to the day. We also love to mix AG1 in a muesli bowl.
AG1 for Kids?

An AG1 Athletic Greens breakfast shake is a ritual for us. It is so delicious that even my children (currently 3 and 6) like to eat or drink it. But I only give them half a glass full – they eat other things. So every morning my children have a green Athletic Greens beard 🙂 Anyone who has/had a kindergarten or preschool child knows how incredible it is that my son has not had a single illness in the past 12 months!!! For this reason, I can recommend from my own experience that AG1 (in a significantly reduced form) could also be tried by children. But this is not medical advice! Everyone has to decide for themselves!
Ingredients for my Athletic Greens AG1 muesli
1 spoon of AG1 – here you come to the discount page
Alternatively, only half a spoonful of AG1 and half a spoon of a meal-replacement-powder like Huel (Ceck out our new article Athletic Greens vs Huel) or Soylent, which is a bit cheaper and thus greatly reduces the total cost of your breakfast without saving health and at the same time gives a feeling of satiation. Pretty cool (but still untested by us) would probably be a mix of AG1 by Athletic Greens and a good Whey-Powder. We'll definitely test soon!
Half a banana
4-5 blueberries
1 TK-Block Spinach (TK = Frozen)
1 TK Broccoli
A handful of TK peas
Seasonal fruit (apple, pear, strawberry peach…)
1 tbsp coconut oil
1 tsp cinnamon
1 tsp turmeric
400 ml water
80 grams of oatmeal.
AG1 Breakfast Muesli Preparation:
The preparation can not be easier. Basically, all ingredients (except oatmeal) must be put in a blender. Mix for 30 seconds on full power and then add over the oatmeal. Afterwards, spoon the oatmeal with a spoon from bottom to top, or thoroughly mix everything thoroughly with the spoon in advance.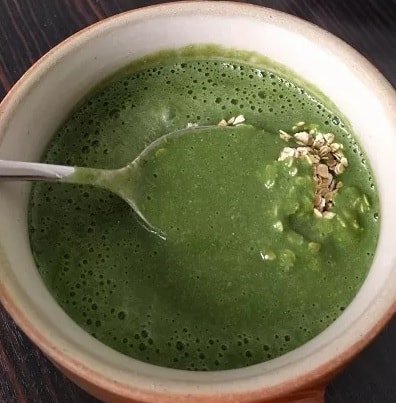 Possible AG1 Effect After 1-3 Months
Better absorption of nutrients from your food
More energy and better mood every day
Greater resilience to disease. With AG1, colds are (at least for us) a thing of the past
Greater lightness when bowel movements
Rare occurrence of body odours
AG1 for Food Intolerances and Allergies?
A typical question with regard to food supplements is always about possible AG1 side effects and whether one may take the product in case of food intolerances. Here Athletic Greens® makes the decision easy for you, because AG1 contains:
no dairy products,
no wheat,
no gluten,
no corn,
no animal products,
no artificial colors or flavors,
no preservatives or MSG,
no lactose,
no Sucrose,
no dextrose,
no egg,
no cholesterol,
no yeast or salt.
All ingredients used are certified organic ingredients.
Possible AG1 effect after 3-6 months
Improvement of the entire skin image on the whole body
Stronger hair growth
Better processing of toxins and fats, resulting in more efficient fat loss. Losing weight with Athletic Greens is therefore one of the many positive features!!
You instinctively eat healthier foods while reducing cravings
Improved inflammatory profile throughout the body
Possible AG1 effect after 6-12 months
A more reliable, stronger immune system with the potential to avoid unnecessary diseases
Improved physical and mental performance
Significant improvements in blood sample results
Believe me, if you don't like the green supplement powder (which won't be the case) you can always make use of your right of return. Athletic Greens say EVEN IF THE PACKAGE IS EMPTY! Read more about Athletic Greens return warranty

Today, events are coming thick and fast!!!
Athletic Greens gives our readers
via the following page
*advertising
for free with any order:
An AG1 shaker
one bottle of sun-vitamin D3 K2
5 AG1 travel packs
A storage tin
An aluminum dosing spoon for your daily AG1
The Vitamin D3-K2 oil is currently not available for purchase separately. According to Athletic Greens, one bottle is enough for a whole year and optimizes the effect of Athletic Greens Shake again enormously because many active ingredients can be absorbed especially in combination with an oil. And we don't need to talk about the general benefits of vitamin D3 and K2 here! Athletic Greens has dosed these active ingredients so that they fit optimally to the daily Greens Shake. Here's how to get to the short-term free promotion page:
*advertising
Quickly strike because it might be very limited in stock.
So if you still see the offer, better use directly.
*advertising