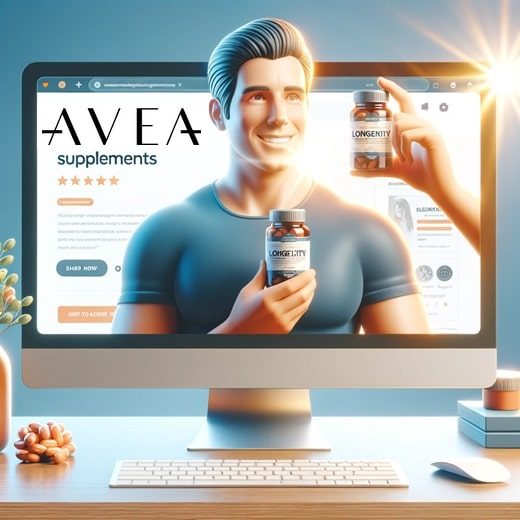 In the field of anti-aging nutritional supplements, Avea Life, a company from Switzerland, stands out particularly. It is dedicated to promoting healthy longevity. With a strong emphasis on scientifically based approaches, Avea Life offers a range of so-called Longevity supplements such as NMN, a blood sugar stabiliser, a booster that further enhances the effect of the NMN supplement and of course, its own formula for Collagen, which can be processed 4 times better by the body and is also vegan. We have tested the products, including a DNA Bioage test, for several months and report here on our Avea Life review.
Longevity Supplements
All products from Avea Life aim to maintain or even enhance vitality and overall well-being so that everyone can enjoy their years in full bloom. Even though the average life expectancy in society is 80 years, the first health restrictions usually start at the age of 65. This means that we spend the remaining 20% of our lives with poor health and correspondingly limited enjoyment of life. Preventing this is the mission of Avea Life.
So, Avea Life is not just about a longer life, but especially about a longer, more vital lifespan with more quality of life? Keyword: Healthy ageing. We take a critical look at Avea and their mission-based nutritional supplements dedicated to the topic of Longevity. All are intended to achieve healthier longevity with higher quality of life. Unfortunately, this doesn't always coincide with our Avea test, as you can read here.
Development of Life Expectancy
Firstly, some theory so one understands the vision Avea Life is pursuing. The Swiss company is not just another supplement provider, but focuses with its expertise on an essential topic, which many have not yet considered in their life planning: Quality of Life.
Avea Founder on Longevity
Here, founder Sophie Chabloz talks about the opportunities of Longevity:
The average age of death (or positively put, life expectancy) has significantly increased over the past hundred years and is now globally at 71.5 years. In Germany, it is even higher. The main reasons for this positive development are the decline in serious diseases such as tuberculosis and cholera, as well as significant advances in medicine and a general improvement in living conditions.
However, it is an illusion to believe that a higher age of death automatically also means more enjoyment of life in old age.
Despite medical achievements, age and the associated health challenges remain a burden for many people. Heart diseases, dementia, and other chronic illnesses can significantly impair the feeling of life and quality of life. This is accompanied by emotional challenges, such as the loss of loved ones and friends.
We have gained many years of life through medical progress, but the quality of life and enjoyment of life have still significantly decreased in recent decades.
While the increase in the age of death is a sign of progress and development, the question remains open as to the extent to which our society can enhance the joy and quality of life of older people. It is important to keep not only the lifespan but also the quality of life in mind and take appropriate measures so that the later years are not only longer but also more fulfilling and healthier. Avea Life's products offer an interesting possibility to maintain quality of life into old age. For almost a decade, science has known the reasons that make us age and the reasons that hinder us from healthy ageing. These are known as the "Hallmarks of Aging", the characteristics of ageing. Recent scientific findings have now made it possible to influence some relevant processes in the body to slow down the ageing process.
Longevity Supplements Could Be the Solution
Longevity, the pursuit of a longer, healthier life, and the associated supplements have received increasing attention recently. The idea behind it is to not only extend the lifespan but also the "Healthspan", the time in which a person remains healthy, active, and pain-free. What many don't know: Only 20% of healthy ageing is influenced by personal DNA. The remaining 80% can be significantly influenced by personal lifestyle. Therefore, certain processes in the human body should be supported to the extent that they can still function optimally in old age and keep the body healthy. Without targeted support, some processes are severely limited from the age of 65.
Who is Avea Life?
The product range of Avea Life is a careful compilation designed by experts in the field of longevity. Each product covers a relevant category for maintaining the joy of life in old age and is the result of thorough scientific research to ensure effectiveness.
Avea Life Founders
Since the company Avea Life is still relatively new to the market, we were interested in who is behind it. Just another company wanting to occupy a new product niche? We can reassure here. It is indeed a newly founded start-up with creative minds who have taken on this mission. The start-up founders behind Avea Life are:
Sophie Chabloz
Pascal Rode
Teresa Budetta.
We initially expected all founders to have a similar scientific background in the field of nutritional supplements or biochemistry. But this is not the case. The founders of Avea Life bring a unique mix of expertise and experiences that complement each other and can certainly provide a solid foundation for success in the coming years.
Sophie Chabloz
is a co-founder and Chief Science Officer of Avea and brings a strong scientific foundation, particularly in the field of food science, nutrition, and health. Her education from ETH Zurich and her experience in a leading FMCG company have well-prepared her to develop innovative and effective nutritional supplements that focus on ingredient synergies. With Avea Life, Sophie has created a platform to showcase innovative and effective nutritional supplements distinguished by the synergy of their ingredients. In the video above, you can experience Sophie Chabloz in an interview, talking about the topic of Longevity.
Pascal Rode
is also a founding member and the Chief Operating Officer of the company, bringing an entrepreneurial background from the FinTech and FoodTech sectors. After establishing several companies (Swiss Foy, Today Zurich AG, and Urban Blue), he ventured into the world of health and longevity technology. His experiences as a co-founder and executive in other companies provide him with the necessary experience to ensure scalable operational processes and to build strategic partnerships for Avea Life.
Teresa Budetta
is also a co-founder and the Chief Marketing Officer of Avea Life. She completed her Bachelor's in Finance at Bocconi University and her Master's in International Business at Esade Business School. Her career began in investment banking before she discovered her passion for marketing. Teresa has a background in finance and international business, combined with experience in investment banking and marketing. Her ability to integrate both financial-strategic and marketing-oriented perspectives is crucial for the market positioning and global expansion of Avea Life.
Avea-Life: The Optimal Founding Combination?
The combination of Sophie's scientific expertise, Pascal's entrepreneurial experience, and Teresa's financial and marketing knowledge creates a dynamic leadership capable of leading Avea Life into a successful future.
By pooling their expertise, they can steer Avea Life in the right direction to fulfil the company's mission and have a positive impact on people's health and wellbeing.
Of course, there are more employees at Avea Life. Here is the entire Avea Life team at a glance >>
NMN by Avea Life
We actually want to talk more about the Avea Life shop here. But of course, we also need to briefly mention the products. In our opinion, the flagship product of Avea Life is NMN.
NMN is a precursor of NAD+ (Nicotinamide adenine dinucleotide), which plays a significant role in the body's various metabolic processes as a coenzyme. This Nicotinamide Mononucleotide supplement is meant to effectively help slow down the signs of ageing and increase NAD levels, crucial for cell health and energy production.
The level of NMN in the body, according to scientific knowledge, plays an important role in healthy ageing. As we get older, the level of NMN in our bodies decreases, which can lead to problems with our metabolism and age-related diseases:


The Avea NMN supplement is therefore intended to increase the NMN level and contribute to slowing down the ageing process. You can try this for yourself here, with a 90-day money-back guarantee:
Avea Life Shop
In the Avea online shop, however, other nutritional supplements are also offered. For instance, the "Mobiliser" is on offer, a supplement aimed at promoting joint health and flexibility, and the "Booster", which is designed to increase skin elasticity. Another noteworthy product is the "DNA & Bioage Test," which provides customers with helpful insights into their genetic constitution, thus enabling a personalised health strategy.
Avea Life Discount Code
In December, there is a special promotion at Avea. You can choose whether you want a 15% coupon or a £15 discount code for your shopping cart. The promotion is only valid in December 2023. Here are the two Avea discount codes that you can enter in the shopping cart:

Rabattcode bei Avea Warenkorbwert unter 100 Euro
Rabattcode bei Avea Warenkorbwert ÜBER 100 Euro
AVEA Rabattcode
15 Prozent Avea Life Rabatt
long life

*Werbung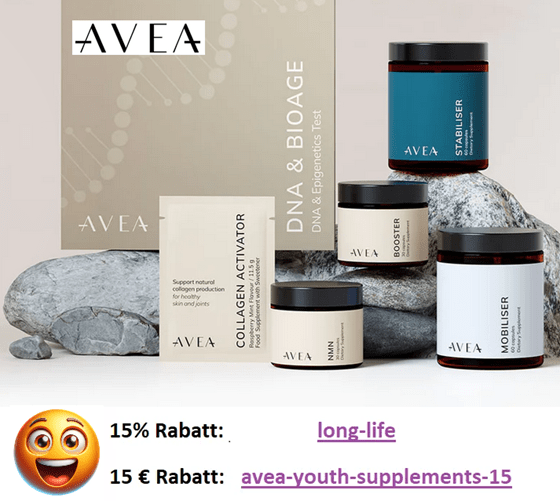 When is Which Avea Discount Code Worthwhile?
The £ 15 discount code avea-youth-supplements-15 is worthwhile for a shopping cart UNDER £100. As soon as your Avea shopping cart is larger than £100, you should choose the 15% coupon code long-life.
Here you can find more about the topic AVEA discount code
Avea Life Quiz
The need for supplements on the topic of longevity is not the same for every person. To navigate the jungle of possibilities, Avea Life offers a quiz. In your result, you will see the most relevant avea longevity products for you.
Man or woman? Pregnant? What age? These and more points are taken into account so that you can quickly find the Longevity supplements that are right for you: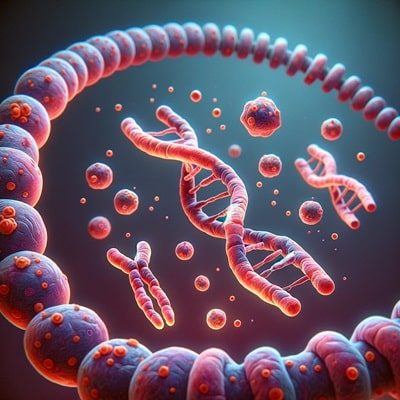 Start the Avea Life Quiz now >>
Avea Life Experiences
Our experiences with Avea Life have been extremely positive so far. We initially became aware of NMN on Avea Life. When it comes to supplements, we place extremely great value on reputable sellers. This is definitely the case with Avea Life. The scientific background of the founders, the official business location in Switzerland, and the friendly customer support directly confirmed this first impression. We can therefore unconditionally recommend Avea Life!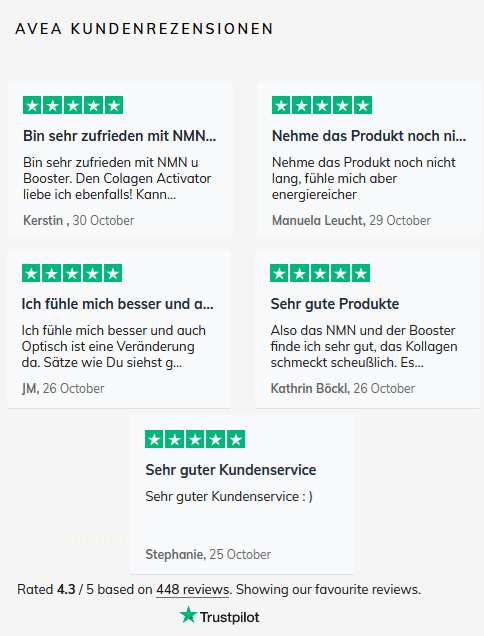 Is Avea Life Worth It?
Although we became aware of Avea Life through NMN, the company gained our ultimate trust with the Bioage Test. Admittedly, this DNA test isn't exactly cheap, and you feel like you're revealing a lot of your private sphere. At the same time, this Bioage Test was the starting point and ultimate key for us for healthy ageing in the future. With this test, we were made aware of things that were not clear to us before. One receives deep insights into one's own genetics and epigenetics. Everything is explained in an easily understandable manner, so that even laypeople can understand everything.
Very individually, it was shown to us based on our DNA where we currently have a deficiency and which we urgently need to supplement due to our specific DNA.
What particularly surprised us positively: We were not told about any of the supplements that are available at Avea. So, no obvious cross-selling is being practised. In the case of our editorial team, for example, we were strongly advised to increase the regular intake of selenium, B12, or glutamine. For other supplements, it was clearly stated that additional supplementation would not bring any additional benefit to us. Such information is not commonplace for us, either.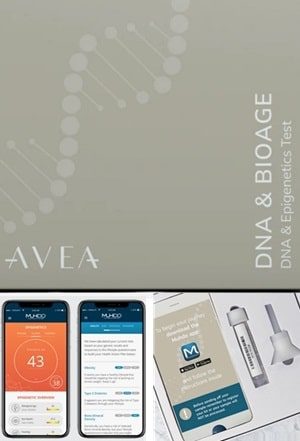 Important: For the Avea Bioage DNA test, it is worth using the voucher code avea-youth-supplements-15 in December 2023, which gives you a discount of £15.
Admittedly, the 15% discount code long-life would give you a saving of just under £30, but Avea has deactivated the voucher code for exactly this product. So that a voucher can still be used for the DNA test, be sure to use the code avea-youth-supplements-15!
Every member of our editorial team was given individual tips. We all followed them and each of us could feel extremely positive improvements within a few weeks. So, the Bioage Test can precisely "put the finger on the wound" and show what one should pay attention to based on one's specific DNA. Even though the cost of the test seems high, it has definitely been worth it for us. In addition, these are one-time costs, so everyone should treat themselves to this insight into their own DNA.
Supplements like NMN, the booster, or the collagen are always a good choice to support healthy ageing, regardless of one's own DNA, so we continue to order them as a subscription from the Avea Life Shop.
Avea Life Critique
Unfortunately, we have also had negative experiences with Avea Life that we would like to briefly report on here. We ordered our first products (NMN and the Bioage Test) in the Avea Shop in the summer of 2023. As we later learned, there was unfortunately a change in the storage system at that time. Therefore, we received the products from the United Kingdom – But we want to deliver it to Germany. This meant we had to wait about 8 days for the order to finally arrive. But that was not the only negative aspect of the Avea order, as we also had to pay a customs fee (thanks to Brexit). A customs fee of 9.90 Euros. This was really annoying because there was nothing about a possible customs fee on the website.
Avea Life Support
Therefore, we wrote an email to the support of Avea. This can be done easily via email to [email protected] or through this contact form >>
Less than an hour later, we had a response and everything was good again. They apologized for the inconvenience and assured us that they would cover the customs costs. So we just sent a photo of the customs invoice and the rest was taken care of by Avea-Life's support.
Super friendly,
totally uncomplicated, and
incredibly quick and helpful.
At the same time, we were assured that this problem has since been recognized and resolved, so we (and all other Avea-Life customers) will not have to deal with this customs issue in future orders. Indeed, we never experienced this problem with later orders. So it was really just a transitional problem, which was annoying, but at the same time impressively showed us how helpful and competent Avea Life's customer support is.
In December 2023, you should definitely use one of the two current voucher codes when placing your order:
15 £ Avea Life Discount (worth it for a shopping cart value of less than 100 Pound): avea-youth-supplements-15
15% Avea Discount Code (worth it for a shopping cart value more than 100 £): long-life
Avea Life Reviews
Our personal experiences align very much with the public customer reviews of Avea Life. Even though the company is still relatively new, it has already amassed a broad fan base and many loyal buyers. Here is a small excerpt from the external reviews about the Avea Shop and its products:
Avea Review on Trustpilot
"200% good experiences"
"Very good product quality"
"Products are really good"
"Very satisfied with NMN and Booster"
"Best customer care"
Avea Review on Google
Amazingly good so far, after a few days… Something is happening in terms of freshness and clarity!
Testing NMN in the first month. Sleep phases (I track my sleep) have improved. Sleep quality as well.
My skin feels softer and fuller after just two weeks of use. It tastes very pleasant and is easy to drink
Here you can read the latest reviews on Google >>
Avea Life Conclusion
Avea Life has earned a very good reputation in the highly competitive supplements industry in an extremely short time, as evidenced by the shining reviews on Trustpilot and Google. With a solid score of 4.2 (as of 2023), customers seem to be completely satisfied with Avea products and the service offered. We can only agree, as our experiences with Avea Life and its products have been excellent so far. Our personal Avea bundle consists of NMN, Booster, Stabiliser, and the Collagen Activator, which we will continue to take in the future!
And the praise doesn't stop here – the employees have also published their positive opinions about the company on Glassdoor. With an impressive rating of 4.9 and a full 100% recommendation to friends. This speaks volumes about the pleasant working atmosphere and the cultivated corporate culture at Avea Life.
These Avea Life experience reports and ratings clearly show that Avea Life is not only a serious player in the industry, but also a company that places great emphasis on high-quality products and a motivating environment for its employees.
Avea Life Offer December 2023
In December, Avea has a special promotion. You can choose whether you want to use a 15% voucher or a £15 discount code for your Avea shopping cart. Both Avea discount codes work for all Avea Life products. The offer is valid while stocks last in December 2023. We've already tested it. Both vouchers work. But a combination of both voucher codes is unfortunately not possible. So be quick. Here are the two Avea discount codes you can use in the shopping cart:
£15 Avea Life Discount (worth it for a shopping cart value less than £100): avea-youth-supplements-15
15% Avea Discount Code (worth it for a shopping cart value more than £ 100): long-life