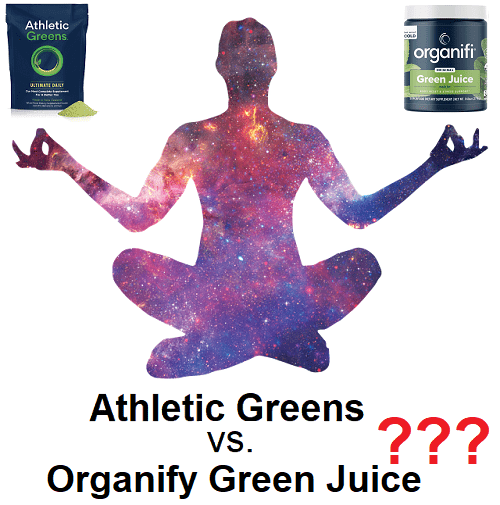 In the last few years more and more Greens Powder have been introduced to the market. We as buyers are spoiled for choice. But which green supplement is really worth its price? Today we will take a look at two of the most popular Greens Supplements. Organifi vs. Athletic Greens? Organifi offers many different powders with names like "green juice", "red juice" and "Organifi gold". We only compare the Green powder "Organifi Green Juice" on this page, which, just like Athletic Greens, is specialized in green superfoods. On this page we want to compare the (in our opinion) most important criteria of both greens.
First of all: Both Superfood Greens Supplements are super and both Greens Powder are ideal for a daily consumption! Nevertheless, there are big differences between the two suppliers, which we would like to draw your attention to here. At the end of the comparison you will surely know which greens supplement you should choose and if the other Greens Supplement is a good alternative for you.
Organifi Green Juice Commercial: 11 Superfoods
Here is a commercial video from Organifi founder Drew Canole where he explains the benefits of 11 superfoods within Organifi Green Juice that shows why a daily green powder is worth its price. You should watch the video (even if it is only because of the funny start).

*advertising
Athletic Greens commercial: The Ultimate Daily All-in-One Supplement
Here you can find a very well-made commercial of Athletic Greens, which shows you the advantages of Athletic Greens in a very nice way.

*advertising
Get your Greens & grab this special Athletic Greens offer
Athletic Greens vs Organifi Green Juice Ingredients
In this table we compare the ingredients of Athletic Greens vs Organifi Green Juice. Additionally we compare a few other details that we find quite interesting, how of course the price of each powder and what exactly you get for it. Ready? So let's start:
Greens Supplement
Athletic Greens
*advertising
Organifi Green Juice
*advertising
Founded in the year
2009
The company "Fit Life TV LLC" was founded in 2010. Organifi Green Juice was launched in Oct. 14 2014 (Design-relaunch "New look Same Formula" in Aug 31st, 2019
Founder / Key people
Chris Ashenden
Drew Canole
Country of origin
New Zealand
San Diego, California, United States of America
Taste
Yummy! Sweet and not artificial! More about it at Athletic Greens taste
smooth and minty
calories per serving
40 calories
only 30 calories!
amount per shake
one scoop (12 g)
one scoop (9 g)
Number of ingredients
75
15
Identical / Overlapping ingredients
5 of 75 ingredients are also included in Organifi Green Juice:




Organic Wheat Grass Powder


Organic Spirulina Powder


Organic Chlorella (Cracked Cell Wall)


Organic Ashwagandha root extract


Organic beet root powder





Additionally included Ingredients at the end of the table
5 of 15 ingredients are also included in Athletic Greens:




Organic Wheat Grass Powder


Organic Spirulina Powder


Organic Chlorella (Cracked Cell Wall)


Organic Ashwagandha root extract


Organic beet root powder





Additionally included Ingredients at the end of the table
Cost per Box
$ 97 (30 servings)
$ 79.95 (30 servings)
Cost per day
$ 3.23
$ 2.67
Cost per Ingredient
$ 1.29
$ 5.33
Current voucher campaign
This month buyers will receive:
1 Athletic Greens Shaker donated
and in addition:
5 Travel-packs for free (value $17)*advertising
or
a bottle Vitamin D3-K2 for Free (value $20)*advertising
This month and while stocks last
Single Subscriptionand save 21%
We also recommend the order option "Single Subscription", with which you can save another 21% on the purchase price. You can cancel the subscription at any time.
Organifi discount to save 15% (status: January, 2021): QG15*advertising

In addition to the above voucher code you can choose between the One-Time Purchase or the "Subscribe & save 26%"
How Subscribe and Save works
Products are automatically delivered on your schedule. With each shipment earn credits towards free product and better discounts! You can modify or cancel your subscription anytime.
Costs after deduction from the voucher
approx. $57
(Depending on whether you were still able to get the bottle vitamin D3-K2*advertising or the Travel packs*advertising for free. The free Shaker we have not included in the calculation)
$ 50.54
Cost per day after deduction from the voucher
$1.9
$ 1.68
Cost per Ingredient after deduction from the voucher
$ 0.76
$ 3.37
Money back guarantee
60 days (even if the package is opened or empty)
60 days 100% no-risk money back guarantee (excludes the price of shipping)
Pro
+ taste
+ price-performance ratio
+ By far the most ingredients
+ 5 of 15 ingredients from Organifi are also included in Athletic Greens
+ significantly larger amount per shake
+ Best Price per ingredients
+ contains probiotics
+ Free Shipping in US, Canada, Europa, Australia
+ taste
+ price
+ many complementary products like Red juice, Organify Glow, Organifi Complete Protein or Organifi Liver Detox
Contra
- no proteins
- Omega 3 missing
- Athletic Greens offers mainly its Greens Powder and does not have such a wide range of products as Organifi
- no proteins
- Omega 3 missing
- probiotics missing
- in total significantly fewer ingredients
- As far as we can see: Organifi Shop does shipping only in US and Canada. For other countries you have to resort to resellers.
Additionally included Ingredient (not included in competitive product)
Included Superfoods




Lecithin


Organic Apple powder


Inulin (FOS prebiotics)


acerola fruit juice powder extract


papaya fruit powder


pineapple fresh fruit concentrate


bilberry fruit extract


rosehip fruit powder


carrot root powder


cocoa bean polyphenol extract


grape seed extract (95% OPC)


green tea extract


licorice root powder


lycium berry fruit extract


ginger rhizome powder


slippery elm bark powder


kelp whole plant powder

Included Nutrient Dense natural herbs, extracts & antioxidants

Alkaline pea protein isolate


citrus bioflavonoids extract


artichoke leaf extract


citric acid


Rhodiola root dry extract


Eleuthero root extract


gotu kola extract


rosemary leaf extract


milk thistle seed extract


R.S alpha-lipoic acid


dandelion whole plant dry concentrate


hawthorn berry extract


beta glucans


policosanol


co-enzyme Q-10


Stevia redaudiana leaf powder


vitamin K2

Included mushrooms & probiotics

Astragalus root powder extract


bromelain


burdock root powder


reishi mushroom powder


shiitake mushroom powder


stevia

Included dairy free probiotics

lactobacillus acidophilis - UALa-01


Bifidobacterium bifidum - UABb-10





Organic Nutra Grass Wheatgrass Juice Powder


Organic Horseradish Tree (Moringa Oleifera)


Organic Matcha Green Tea


Organic Coco Organic Coconut


Organic Turmeric root


Organic Prebiotic Vegetable Fiber (Tapioca starch)


Organic Lemon Flavor (Since this is not freeze-dried lemon powder there are no note-able benefits.)


Organic Orange Flavor


Organic Mint Flavor (Just for the taste. No note-able benefits.)


Luo han guo (Monk fruit)



To the store (with voucher action)
5 Travel-Packs for free*advertising
or
Vitamin D3-K2 for free*advertising
Organifi Green Juice
*advertising. Don't forget the current Organifi discount to save 15%: QG15*advertising
Bottom line: Athletic Greens vs. Organifi Green Juice
We have already tested many different greens, where mostly Athletic Greens win the race. Also in this test Athletic Greens has significantly more ingredients to offer than Organifi. In terms of price, the two high-quality greens are relatively similar. In fact, it is the first time that the Athletic Greens alternative contains many other ingredients than Athletic Greens. This led us to the conclusion that it would be ideal to either mix the two greens powders (half a spoonful of each powder per shake) or change the greens daily to get the optimum from both greens. You have never ordered a green before? Due to the current promotion (see below) we would recommend Athletic Greens for the time being. This month you will get a shaker for free. In addition, you will receive either 5 Travelpacks*advertising or a bottle of vitamin D3-K2*advertising this month (January, 2021). At least while stocks last.
Organifi Green Juice Ingredients
Here is a list of the Organifi Green Juice ingredients and its supplement facts:


*advertising
Athletic Greens Ingredients
The list of Athletic Greens ingredients is a bit longer. So we have created a separate page for it, which you can find under Athletic greens ingredients
Athletic Greens supplement facts
Organifi Green Juice or Athletic greens comparison / review
The comparison of the two greens is not enough for you? Here you can see a longer comparison so you get an answer to the question Athletic Greens or Organifi Green Juice:

*advertising
And the winner is… Athletic Greens
Summary of the video (starts at Minute 12:01) or just klick here:
*advertising
Organifi discount
You would like to try Organifi Green Juice? Then don't forget to use the current coupon code in the shopping cart. You can save 15% with the discount code QG15. If this doesn't work anymore, you can also try HEALTH15

Athletic Greens Coupon Code
Today, events are coming thick and fast!!!
Athletic Greens gives our readers
via the following page
*advertising
for free with any order:
one shaker
one ceramic jar & a ceramic Spoon
one bottle of vitamin D3 K2 (value approx $ 25)
5 travel packs (value approx $ 25)
The Vitamin D3-K2 oil is currently not available for purchase separately,
but will probably cost over 20 Dollar
in the future. According to Athletic Greens, one bottle is enough for a whole year and optimizes the effect of Athletic Greens Shake again enormously, because many active ingredients can be absorbed especially in combination with an oil. And we don't need to talk about the general benefits of vitamin D2 and K2 here! Athletic Greens has dosed these active ingredients so that they fit optimally to the daily Greens Shake. Here's how to get to the short-term free promotion page:
*advertising
Quickly strike, because the action as I said was very limited in time. Unfortunately, I do not know exactly until how much clock the action still goes and can here also no countdown or so. So if you still see the action, better use directly.
We have just ordered for us already 🙂
*advertising
Some of the tips presented here are unfortunately no longer valid worldwide, so that the prices shown are maybe not correct anymore. But the links go to alternative Athletic Greens landing pages with actual hidden promos. Always guaranteed with the best price-performance ratio!