Surely you have already come across the Athletic Greens Shaker bottle in one or the other advertisement. Besides the Athletic Greens print we find the bamboo cap really elegant and stylish!
The original Athletic Greens bottle with bamboo cap is available free of charge in January within this promotion! While stocks last.
Athletic Greens Shaker free of charge
Separately unfortunately this shaker is not available for purchase. As a special promotion this month Athletic Greens is giving away the shaker as a gift with every new customer order!
So if you are already a customer, you should think about ordering again with a new email address 😉 If you are really a new customer, so much the better!
Don't be surprised: Since the action with the Athletic Greens Bamboo-Shaker is very limited, the action is not advertised separately on the site.
Orders placed via the following promotion page will be considered for the Athletic Greens Shaker shipment. Here you get to the promotion page >>
So put Athletic Greens in the shopping cart and order with ultimate daily discount of 19%. Orders placed in the January will almost certainly be considered for the free shaker from Athletic Greens.
Athletic Greens bottle Scale
On the glass shaker from Athletic Greens a scale of 4 -12 oz is deposited. This is the American liquid ounce. 1 fl oz corresponds to about 30 ml. 10 fl oz is the recommended amount of 300 ml water, which should be filled up with one measuring spoon of Athletic Greens.

Athletic Greens Bamboo Cover
Here you can see the bamboo lid of the Athletic Greens Shaker in detail:

Bamboo lid or blue lid ?
Since the supply of bamboo lids is probably very scarce, it is possible that instead of the bamboo lid a blue lid is found on the free Athletic Greens shaker. Some of you might already know this blue lid, as you have seen it in many shootings of Athletic Greens. Together with the green shake it also looks very stylish as you can see here: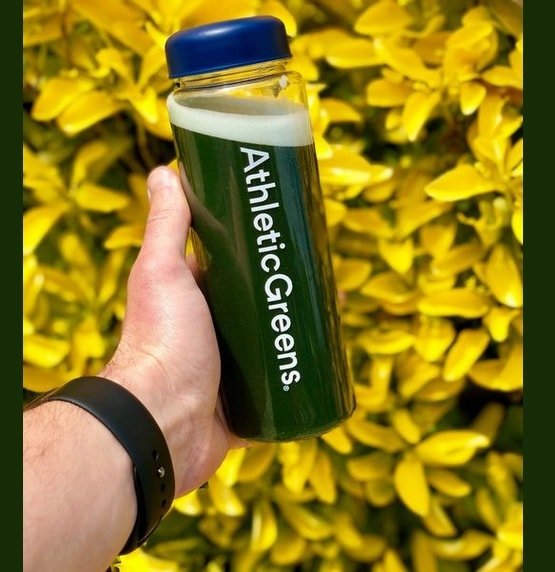 Unfortunately you can't choose if you want a shaker with bamboo or blue lid when ordering. But generally there is no right to a free shaker anyway.
The action for the Free Athletic Greens-Shaker is very limited, so we can only recommend to get it quickly if you plan to order Athletic Greens anyway. At the moment the chances to get a shaker for free are still good.
Athletic Greens with free travel packs
But that is not all. Additionally, Athletic Greens is giving away 5 Travel Packs worth $17 this month!
Today, events are coming thick and fast!!!
Athletic Greens gives our readers
via the following page
*advertising
for free with any order:
one shaker
one ceramic jar & a ceramic Spoon
one bottle of vitamin D3 K2 (value approx $ 25)
5 travel packs (value approx $ 25)
The Vitamin D3-K2 oil is currently not available for purchase separately,
but will probably cost over 20 Dollar
in the future. According to Athletic Greens, one bottle is enough for a whole year and optimizes the effect of Athletic Greens Shake again enormously, because many active ingredients can be absorbed especially in combination with an oil. And we don't need to talk about the general benefits of vitamin D2 and K2 here! Athletic Greens has dosed these active ingredients so that they fit optimally to the daily Greens Shake. Here's how to get to the short-term free promotion page:
*advertising
Quickly strike, because the action as I said was very limited in time. Unfortunately, I do not know exactly until how much clock the action still goes and can here also no countdown or so. So if you still see the action, better use directly.
We have just ordered for us already 🙂
*advertising
Some of the tips presented here are unfortunately no longer valid worldwide, so that the prices shown are maybe not correct anymore. But the links go to alternative Athletic Greens landing pages with actual hidden promos. Always guaranteed with the best price-performance ratio!