Important: The following AG1 Athletic Greens welcome kit is only available for citizens in the USA, Canada, Australia, Germany, France, Italy and the UK!


The AG1 Welcome Kit by Athletic Greens! On this page we will show you what this gift contains and how you can get one of the few packages.
AG1 Athletic Greens Welcome Kit Contents
The AG1 Welcome Kit of Athletic Greens currently contains several products. We received the kit this year as a test order and are thrilled.
New Athletic Greens branding in AG1
Breaking news:
Athletic Greens® has rebranded its core product from Athletic Greens to AG1®. The 1 stands for "
the one and only Supplement
" which is needed for daily health nutrition!
In any case, the content, quality, and price remain unchanged.
As a result of the rebranding, the globally distributed packaging is now completely environmentally friendly. The new AG1 name also emphasizes that the Greens supplement isn't just for "athletic people," but can be consumed
by anyone looking for healthy and complete nutrition
. Here is a picture showing Athletic Greens before and after it was changed to AG1:
*advertising
AG1 Promo Offer
There is a special offer for AG1 for this month. If you order your first order during
February 2023
you'll get a pouch of AG1 with 30 servings along
with a ton of free extras
. As a result, one does not only get the
Greens supplement AG1® with 75 ingredients
for one month, but in addition also the following products of the company Athletic Greens®
as a gift
:
One bottle of Vitamin D3-K2
5 free Travelpacks
A premium jar using the new AG1 design
A dosing spoon to match the new AG1 jar is also provided
An AG1 shaker. The bottle also features the new AG1 logo. A fancy way to shake your daily AG1
*advertising
AG1 Athletic Greens Unboxing
The AG1 package comes in a big box. We will use this box again later as a style element and not just as packaging! When you open the Athletic Greens box, you are greeted with this slogan: "You're going to need a smaller cabinet" so you can save all other supplements in the future: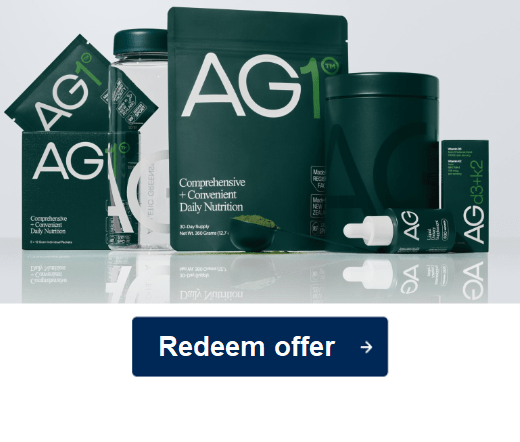 AG1 Pouch
The heart of the AG1 Welcome Box is, of course, the resealable pouch with a total of 30 servings of the high-quality Greens supplement.

With every AG1 Athletic Greens order you get (while stocks last) one Athletic Greens Premium Jar in addition. We have always hoped for such a container, because the daily reach to the Athletic Greens packaging was always associated with anticipation, but at the same time it is always a bit tedious to get the powder out of the package, especially towards the end of the bag. The problem is finally solved with this stainless steel can with airtight closure.


We already hold the AG1 Stainless Steel Jar in our hands and are absolutely thrilled, because this AG1 Jar (as it is called in English) is extremely high quality workmanship and is soft and at the same time comfortable in the hand.
AG1 by Athletic Greens airtight seal
In order to guarantee long-term freshness for the AG1 powder, the lid of the "AG1 Premium jar" closes quickly, easily, and above all airtight, so that the stainless steel jar can be stored in the refrigerator.

Tip: To be on the safe side, we always put this small bag (called a silica gel bag), which can be found in every Athletic Greens bag, at the bottom of the AG1 stainless steel jar, to prevent too much humidity from damaging the powder. In the AG1 storage jar, this sachet is no longer an issue. This was previously more annoying in packaging because the spoon could not pick up the powder unhindered. Another clear improvement here!
AG1 Welcome Set from Athleticg Greens: AG1 dosing spoon
As part of the welcome set, a dark green 'AG1 spoon' is included. Also made of high-quality metal! Very high quality. Handling the dosing spoon is a pleasure. Thus, dosing the daily green supplements is much more fun than with the previous plastic spoon, which we have since stored at the very back of the closet. A spoonful of the AG1 daily dose measures exactly 12 grams, so the dosing spoon corresponds to one spoonful. The spoon also forms a nice hemisphere out of the AG1 powder, which reminds you of a delicious ice cream scoop. The day gets off to a really good start with this.

The spoon's handle has a hole that allows it to be attached with a cord. We ourselves do not use the hole and simply store the spoon in the stainless steel box for easy access the next morning.
AG1 welcome kit with bottle
We just wrote an extra page for the AG1 Athletic Greens bottle. And yes: In this welcome kit you will also get the AG1 bottle with the dark green cap by Athletic Greens. Just look at the pictures below. We are sure you will automatically "fall in love" with the bottle.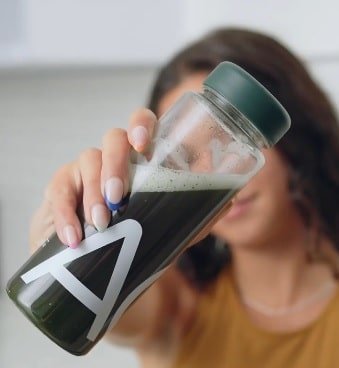 Welcome kit with liquid Vitamin D3 K2 for free
Athletic Greens Vitamin D3 K2 contains 600 units, enough for a complete year. Athletic Greens Vitamin D3 K2 has a value of $20. With the AG1 Welcome Kit Athletic Greens® makes you this month the unbeatable offer to receive a bottle of vitamin D3-K2 together with the Athletic Greens Welcome Kit as a gift. As we said, this month (February 2023) is the ideal month for all AG1 first-timers to try the Greens supplement from Athletic Greens. Here is the way to redeem this offer, including an Athletic Greens Welcome Kit:

Welcome kit with 5 AG1 Travelpacks for free
Yes, it goes even further. Athletic Greens® simply adds 5 free AG1 Travelpacks with a value of $17 this month:

Athletic Greens offer February 2023 (While stocks last)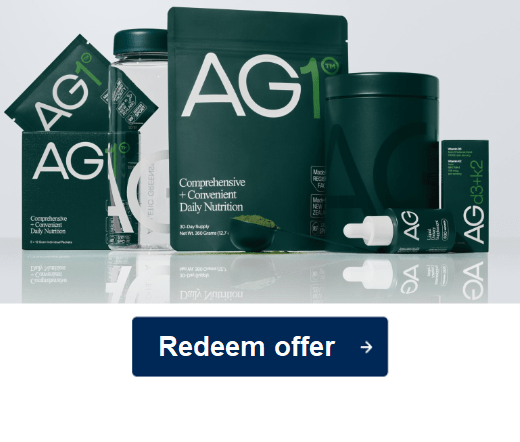 Athletic Greens welcome kit for new customers only?
After hearing about this AG1 offer from Athletic Greens, a friend of ours was initially upset, since he had just ordered for the first time last month. He had "only" received the five travel packs as a special offer at the time. However, we reminded him simply that he certainly has a girlfriend who also has an email address. By using this method, he was able to secure the AG1 welcome box for first-time customers of Athletic Greens without a problem. Hence, what you should do if you already know AG1 from Athletic Greens and would still like to obtain it (which we cannot advise you urgently) is to ask your wife / girlfriend, parents, siblings or neighbors to help you out perhaps by providing their email addresses 😉 You can gift them one of the five AG1 Travelpacks as a thank you 😉

Today, events are coming thick and fast!!!
Athletic Greens gives our readers
via the following page
*advertising
for free with any order:
An AG1 shaker
one bottle of sun-vitamin D3 K2
5 AG1 travel packs
A storage tin
An aluminium dosing spoon for your daily AG1
The Vitamin D3-K2 oil is currently not available for purchase separately. According to Athletic Greens, one bottle is enough for a whole year and optimizes the effect of Athletic Greens Shake again enormously, because many active ingredients can be absorbed especially in combination with an oil. And we don't need to talk about the general benefits of vitamin D3 and K2 here! Here's how to get to the short-term free promotion page:
*advertising
Get your greens 😉
*advertising