Anyone who has landed on this page probably knows Athletic Greens from hearing it said, right? You are probably thinking about buying this rather expensive powder or not. Okay, you probably already know that Athletic Greens combines some of the most nutritious ingredients in just one shake. But what is it really? And is it really that healthy, or again just one of those "superfood marketing statements"? We take a closer look at the Athletic Greens nutritional values!
Athletic Greens nutritional values
First, we look at the calories and nutritional values of a daily dose of Athletic Greens.
12 grams of Athletic Greens contained:
40 calories
4.8 g of carbohydrates
4,0 g protein
0,0 g fat
This is not yet a very exciting read. "Unfortunately" there is no fat in it, because this means that the ingredients are not always optimally absorbed. We asked the inventor of Athletic Greens:
Why is Omega 3 included in Athletic Greens? Here is the answer of Chris "The Kiwi" Asheden: Athletic Greens Omega 3
Athletic Greens ingredients
Ingredients such as cocoa, green tea extract and carrot root powder make Athletic Greens a natural energy supplier with a surprisingly sweet taste. These ingredients do not sound exciting at first, do they? I think I just found that in my kitchen… Well, not root extract, but carrots.
You have to try the taste of Athletic Greens yourself, because it's hard to describe and it's not comparable to any other shake or powder! But to be clear: The taste of Athletic Greens is really hammer tasty! But to be honest: I can't taste any of the ingredients. Cocoa or green tea? I can't taste out of it. But as I said, simply a new delicious taste! Read more about Athletic Greens taste
But that was only 3 of 76 ingredients of the Athletic Greens powder. So what else is in it?
Coenzyme Q10 (for more energy and anti-aging)
This important vitamin-like substance is already contained in your body. It plays an important role in stimulating your cells and providing you with energy. Have you already included in your body? Huh?
Yes, but the older you get, the less your body can produce this coenzyme Q10. Surely you have held one of these Q10 face creams in your hand and told yourself that you don't need it yet… At least I always have. The great thing about Q10 is that your body is already used to Q10 production. With the additional Q10 intake from Athletic Greens, the internal memory knows exactly how to store it for later times when you just feed it to it. So unlike other vitamins or minerals, the body can store the extra coenzymes very well, so you can get a good cushion. sounds good, or ?
Athletic Greens Spirulina
Spirulina (The secret star among the "strong superfood foods" for your health)
Spirulina seaweed and chlorella (also within Athletic Greens) is unfortunately becoming more and more expensive due to the ever-increasing demand. Many process only minimal doses, just to keep the term in their ingredient list. This is not the case with Athletic Greens. Spirulina is the number one ingredient within each Athletic Greens Shake! In one shake portion you have all the relevant nutrients of Spirulina to supply you for the day! That's how it should be and that's the only way Superfood Greens makes sense for you!
But was Spirulina discovered only recently or is it an ancient and hitherto unrecognized food? What is spirulina anyway? It is a blue-green freshwater algae. Hmm… okay…
As is often the case, spirulina has been around for a very long time, and we have simply misjudged the power in this food. Many ancient cultures, like the Mayans, used it as one of their main food sources. Well, they are still extinct, but we don't want to attribute this to spirulina…
Spirulina nutrients
If you look at all the nutrients that spirulina contains, you will understand why so many people think it is the "perfect food":
Spirulina is about 60% protein. Otherwise, it contains many minerals like:
Calcium
magnesium
Phosphorus
Potassium
Iron
Chrome
Copper
Manganese
Selenium
Sodium
Zinc
Not bad, huh? Then Spirulina contains vitamin B group, C and E in a composition ideal for the human body!
That's it? Nah, it's got essential fatty acids and amino acids, antioxidants, chlorophyll. All in all Spirulina is a detox miracle, which fortunately is not used sparingly in athletic greens!
acerola cherry is also contained in the wonder powder. Again such a thing which one has already heard however nevertheless does not know exactly what it is actually… Here in the point what you must know about it:
The acerola cherry contains the most natural and for humans the most usable form of vitamin C that exists. Do you already get enough vitamin C?
A recently published study has shown that today you would have to eat 8 oranges a day to get enough vitamin C. For our grandparents one more orange a day was enough! But we do not want to talk about the consequences of globalization and overpopulation now?
In your opinion, does it still matter because vitamin C is added to all food?
WRONG again!
The so-called "vitamin C" that you find in supermarkets is an industrially produced chemical substitute that cannot be compared to natural products because your body cannot use it as well.
As I said, the acerola cherry is pumped full of good vitamin C and antioxidants to turn your body's immune system into a tank!
It's true, one serving of Athletic Greens is equivalent to 12 servings of fruit and vegetables a day!
But what does that mean for the body? That's what we've been looking at in the Athletic Greens side effects.
Athletic Greens ingredients list
Athletic Greens contains no unnecessary extras, no fake ingredients to make it look cool in the ingredients list. The ingredients contain a high-quality and effective combination of real vitamins, minerals and wholefood ingredients. Here is a list of all ingredients within Athletic Greens:
Athletic Greens nutritional information
Athletic Greens Vitamins and Minerals
Athletic Greens Superfoods
Athletic Greens Ingredients Herbs, extracts & Antioxidants
Athletic Greens mushrooms & probiotics

Athletic Greens dairy free probiotics

Athletic Greens Vitamin D3?
There is one small point of criticism after all. The vitamin D and K content in the body cannot be optimized with the Greens powder. Reason: Vitamin D and K are fat-soluble vitamins and can therefore not be integrated in a powder.
If possible, you should therefore make sure that you integrate foods with vitamin D into your everyday life or you use a specific supplement just for that.
Oh, very important: And here you can find our Athletic Greens review, in which we show, besides many personal reviews, what effects Athletic Greens has on the body after 1, 3, 6 and 12 months. Fascinating! Finally, you will also find some delicious Athletic Greens recipes. A crunchy and healthy cereal bowl variant that is guaranteed to fill you up.
Athletic Greens Beard
A little story by the way, which I don't want to withhold from you: My son has already pointed out to me several times that I have an "Athletic Greens beard"… that means two green spots on my upper lip…But honestly: I think a Hulk beard is cooler than a milk beard or what do you think? I always give my son a small portion of the shake. But not too much: He is in kindergarten and has never been sick. Whoever has children knows how almost impossible that is.
NOT included in athletic greens
Here is a short note about what is NOT included in Athletic Greens:
No harmful chemicals, artificial colours, artificial flavours, preservatives, artificial sweeteners and no added sugar.
The list goes on.
Athletic Greens also contains NO GMOs (genetically modified organisms), alcohol, herbicides, pesticides, wheat, dairy products, gluten, corn, lactose, sucrose, dextrose, egg, cholesterol, yeast, salt, peanuts or animal products.
It's sad, but you can see from this that even the omission of ingredients is something very special these days. Athletic Greens fortunately feels all these conditions! In other words, Athletic Greens is suitable for just about everyone!
Athletic Greens best price
Since I have been convinced of Athletic Greens for quite some time now, I can recommend Athletic Greens to you with all my heart! Even if the price seems high at first, it is cheaper than a cup of coffee a day… And coffee contains only roasted coffee beans in case of doubt… And how much healthier this shake is in comparison to coffee, I don't think we have to question now, do we?
Current Athletic Greens offer for January 2021
: This month there is a special highlight. Athletic Greens offers
all users of Superfood-Greens.com via this link
a $17 discount on their first order. In addition to that you will get a
free Athletic Greens Shaker
made of glass and bamboo closure with your first order.
Another tip: If you choose the
Athletic Greens Ultimate daily
option during the ordering process, you will save even 19%. Nevertheless, you don't have to be afraid of an Athletic Greens subscription and of course the 60-day return guarantee also applies to this limited offer!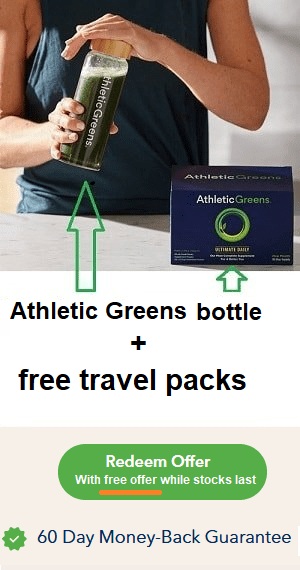 Believe me, if you don't like the powder (which won't be the case) you can always make use of your right of return. EVEN IF THE PACKAGE IS EMPTY! Read more about Athletic Greens return warranty
Independent of that, I have put together some ultimate Athletic Greens hacks for you. Here you can find an actual Athletic Greens discount code. Over 76% compared to the original price is possible. But take a look for yourself, because the tricks are sometimes a bit extreme.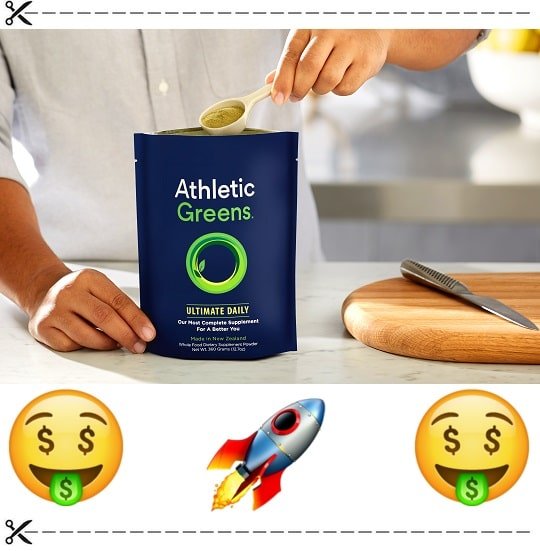 Today, events are coming thick and fast!!!
Athletic Greens gives our readers
via the following page
*advertising
for free with any order:
one shaker
one ceramic jar & a ceramic Spoon
one bottle of vitamin D3 K2 (value approx $ 25)
5 travel packs (value approx $ 25)
The Vitamin D3-K2 oil is currently not available for purchase separately,
but will probably cost over 20 Dollar
in the future. According to Athletic Greens, one bottle is enough for a whole year and optimizes the effect of Athletic Greens Shake again enormously, because many active ingredients can be absorbed especially in combination with an oil. And we don't need to talk about the general benefits of vitamin D2 and K2 here! Athletic Greens has dosed these active ingredients so that they fit optimally to the daily Greens Shake. Here's how to get to the short-term free promotion page:
*advertising
Quickly strike, because the action as I said was very limited in time. Unfortunately, I do not know exactly until how much clock the action still goes and can here also no countdown or so. So if you still see the action, better use directly.
We have just ordered for us already 🙂
*advertising
Some of the tips presented here are unfortunately no longer valid worldwide, so that the prices shown are maybe not correct anymore. But the links go to alternative Athletic Greens landing pages with actual hidden promos. Always guaranteed with the best price-performance ratio!